Be ready on day one
Immersive preparation
The Teacher Residency prepares you for the realities of the classroom with rigorous course work and hands-on practice. Over the course of one year, you complete a master of arts in teaching and an immersive residency in one partner school.
A community of supportive faculty, teacher mentors, and peers await you at the NYU Teacher Residency. The immersive design intentionally surrounds you with hands-on, facilitated learning experiences in a safe environment that cultivates your growth into an effective teacher. When it's time to lead a classroom of your own, you are ready on day one. You have the practical foundation to meet the needs of each student and confidently know how to build a community of learners.
Wraparound support
As a teacher resident, you can count on a deep web of support.
With the Inclusive Childhood Education degree, your support team includes a teaching mentor and residency school site partner staff, a residency director, and NYU Steinhardt faculty who teach each module.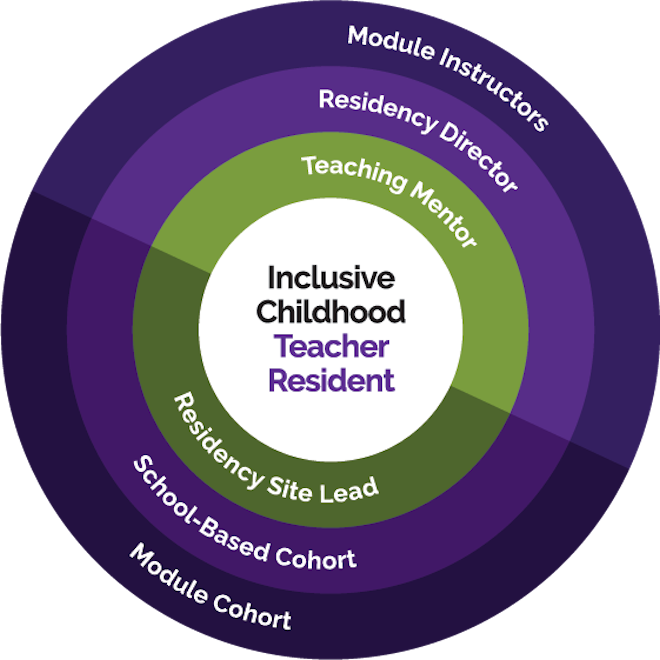 With the Secondary Education degree, your support team includes a teaching mentor and residency school site partner staff, a residency director and fellow peers at your school, NYU Steinhardt faculty who instruct you on curriculum modules, and NYU Steinhardt content mentors who prepare you and your content cohort for a specific subject area.
Gradual release of responsibility
While learning alongside a highly effective teacher mentor, you learn to teach in the same school for the entire year. NYU Steinhardt faculty instruct you on course modules that align with what you're doing in the classroom. Your teacher mentor builds your responsibilities as you master techniques and theory. This is called "gradual release of responsibility."
While you're learning the foundational theories and techniques of being a teacher, you have fewer responsibilities. As you reach the active practice stage, you experience an increase in responsibilities in the classroom. Then at peak teaching, toward the end of your residency, you act as lead teacher in the classroom.
Curriculum
Online learning
You meet online with NYU Steinhardt faculty and peers twice per week in the evening using the interactive tools Zoom and Canvas. While collaborating and building meaningful relationships with peers, mentors, and faculty in this learning community, you share challenges and gain helpful advice as you study cutting-edge learning theory.
Virtual orientation is the last week of June. Your first module will begin in early July, and you can access it from anywhere.
I was scared because I didn't know what online learning looked like and wondered how I would stay on top of myself if it's all online. How would I hold myself accountable to complete the work, especially with group projects and things of that nature? But the online tools actually helped me manage my workload.
MANNY
GRADUATE, 2019 COHORT,
PROSPECT SCHOOLS, BROOKLYN
A third interactive video tool called Torsh is used to observe your progression, identify areas where you need additional support, and celebrate your successes. You become comfortable recording your instructional lessons and receiving feedback from faculty and teacher mentors in order to reflect on and learn from.
Build expertise for the classroom
Whether you choose the Inclusive Childhood Education degree or the Secondary Education degree, each prepares you to become a confident and skilled classroom teacher. You gain the essential skills that all teachers need to be effective in the classroom, such as how to build a responsive and respectful classroom environment.
I have learned from my mentor myriad classroom management tips, useful restorative practice approaches, the essence of teaching, and amazing pedagogical ideas.
XIN
GRADUATE, 2019 COHORT,
SAN FRANCISCO UNIFIED SCHOOL DISTRICT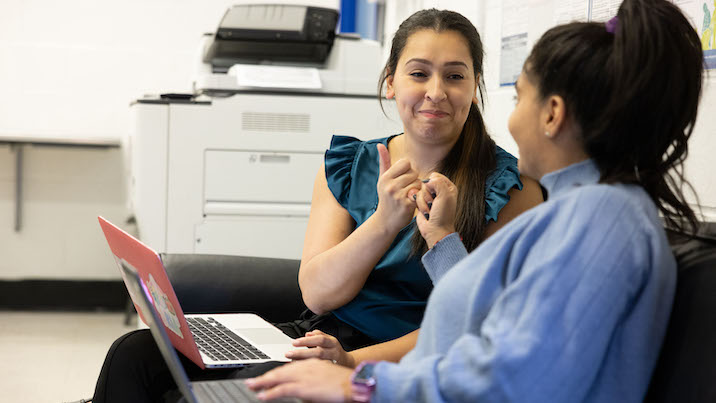 Part of the community
You receive coaching from NYU Steinhardt faculty, residency directors, and on-site mentor teachers to become an active member of the school. You learn how to create a sense of community in the classroom, while building connections with families and an understanding of, and belonging to, the local community. All of this happens in parallel with the close connections being built with your fellow cohort members.
We built this program from the ground up, and [the faculty] all agreed on starting with the ideas of building community and understanding identity.
HEATHER WOODLEY
CLINICAL ASSOCIATE PROFESSOR OF TESOL, BILINGUAL EDUCATION, AND WORLD LANGUAGE EDUCATION
You undergo a research project during the residency year where your students take center stage. You facilitate and design the Participatory Action Research (PAR) project with your students. Residents study everything from school culture and bullying policies, to efforts that make math more fun and engaging. This project fosters your relationship with one of the most important communities in your role as an educator: your student community.
Benefits of the Teacher Residency
Teacher preparedness and effectiveness using an immersive, innovative residency model
Online learning using state-of-the-art tools to connect practice, mentoring, and course work in a collaborative environment
Individual growth cultivated and guided by a web of support that includes NYU Steinhardt faculty, a cohort of peers, teaching mentors, a residency director, and in-school staff
Preparation to serve all learners, including emergent bilinguals and students with disabilities
A focus on understanding and building community with students, families, and your school