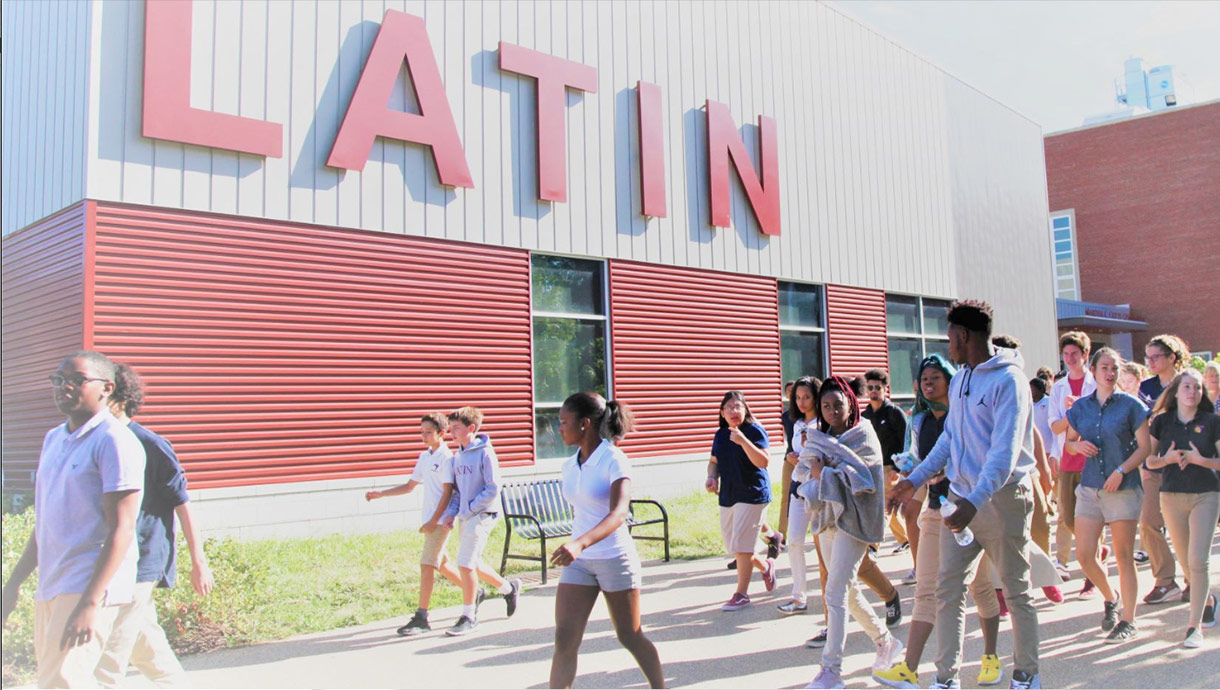 Washington Latin Public Charter School
Washington Latin Public Charter Schools include two campuses: one serving Grades 5-12 in the Fort Totten neighborhood of Washington, DC, and the other currently serving Grades 5-6 in the Edgewood neighborhood. The second campus will add a new grade each year until it reaches Grade 12. That campus will move from a temporary location to a permanent site for the 2025-2026 school year. Each school maintains a small-by-design diverse community where inspiration, warmth, and holistic education take center stage.
Washington Latin schools are liberal arts, college preparatory schools grounded in a classical mission. They emphasize curriculum that explores the history of the ancients and develops understanding, knowledge, and humanity of its scholars. The school views education as a training of character, and character is the intersection of intellectual development and moral integrity. Students at Washington Latin are both encouraged and prepared to be thoughtful people who will contribute to the public good and continue lifelong quests toward a fuller humanity. Teachers and administrators are passionate about the mission and commit themselves to support the growth of well-rounded students who are exposed to broad academic and language skills.
The school operates by an unofficial motto that words matter, ideas matter, and people matter. Excellent teachers are a priority, and with ample support are given autonomy to create a culture of learning for their diverse student body. An important practice at Washington Latin is that all adults contribute to teaching and learning and instruct at least one class every year. Our leaders are teachers, our teachers are leaders.
Student population
Middle school
44% White
40% Black
9% Hispanic
4% Two or more races
3% Asian
Upper/high school
50% Black
35% White
9% Hispanic
3% Two or more races
3% Asian
72%
OF STUDENTS ARE PROFICIENT IN READING
92%
AVERAGE GRADUATION RATE
8%
QUALIFY FOR FREE / REDUCED LUNCH
47%
OF STUDENTS ARE PROFICIENT IN MATH
Residency site locations
Cooper Campus
2nd Street Campus
The details
30-credit master of arts in teaching (MAT) program
Meet online with NYU Steinhardt faculty and peers twice per week in the evening for your course work ~15 hours/week
~40 hours/week in classroom residency at partner location
Tuition subsidy and stipend or wage from partner school
Two-year commitment following residency required
Please note Washington Latin is not currently designated as a Title 1 school
Full-day cost details
As a teacher resident, you'll work alongside another teacher and gain responsibility throughout the year. This immersive learning is designed to assist you with understanding your students and their learning process, setting you up to have a class of your own the following year.
During residency year
---
Full Medical, Dental, and Vision Benefits
---
---
After residency year
Teacher (full time)
After successful completion of the program, you will have a job waiting for you as a teacher at Washington Latin. In exchange for providing a master's subsidy and funding to offset your living expenses during your residency year, Washington Latin requires you to make a commitment to teach there for at least two years after earning your degree.
---
Estimated Starting Salary with Master's Degree
Commensurate with experience
---
The figures above are estimates provided by our partners for informational and planning purposes only. NYU Steinhardt does not guarantee these amounts.