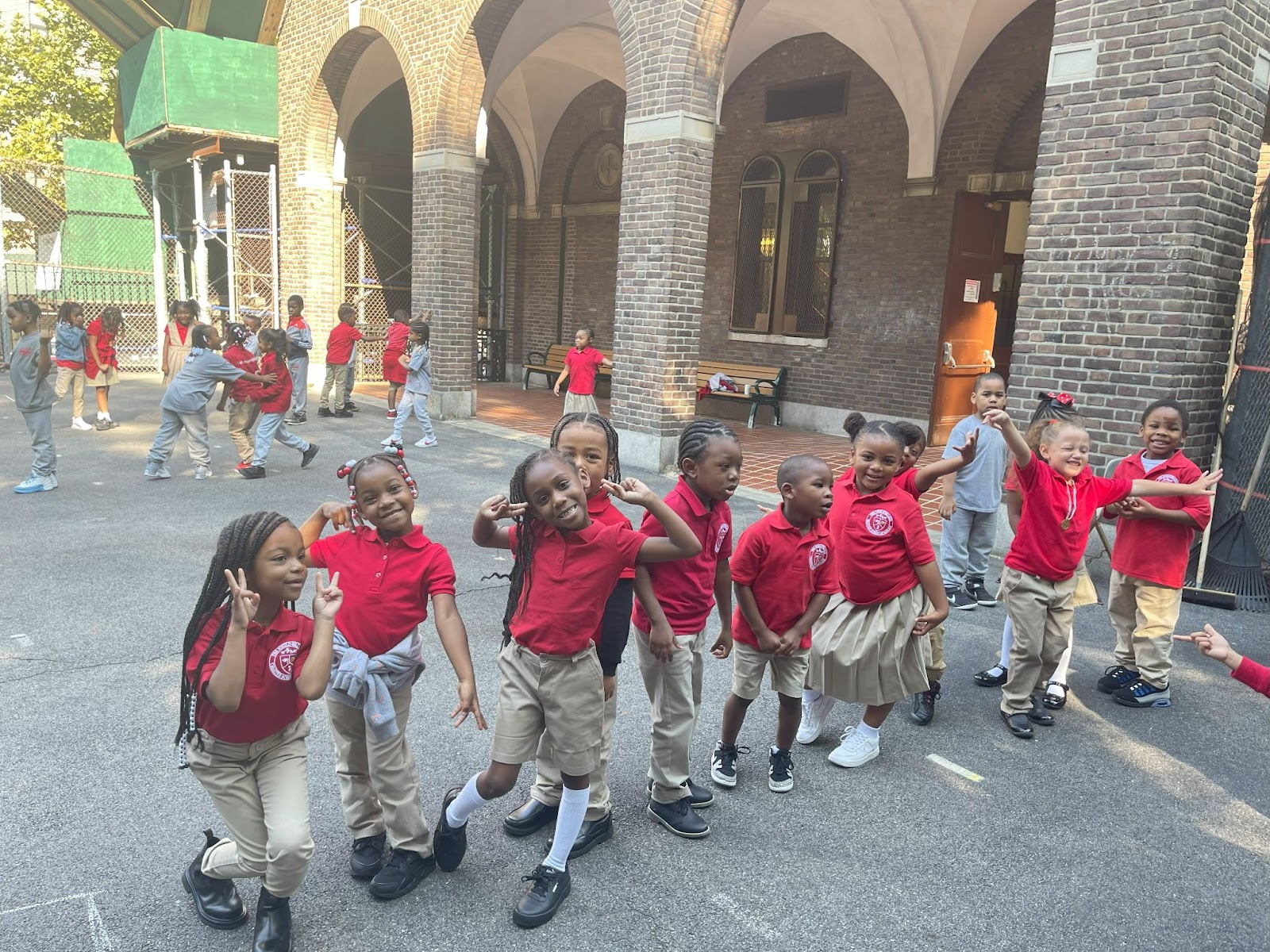 Sisulu-Walker Charter School of Harlem
Sisulu-Walker Charter School of Harlem (SWCSH) is a public charter school that specializes in providing high-quality educational experiences to K-5 citizens living in New York City. SWCSH is named after Walter Sisulu and Rev. Dr. Wyatt T. Walker who dedicated their lives to public service in their communities, both on their own and as senior colleagues of Nelson Mandela and Dr. Martin Luther King Jr. We have proudly served the Central Harlem community since September of 1999. As New York State's first charter school, we have provided NYC families with an innovative alternative to traditional public schools for 25 years.
We believe that poverty should not be a barrier to learning or future success. As a result, we instill in our citizens a commitment to achievement, honor, and a life of service as we prepare them to be future leaders. SWCSH is a small and supportive learning environment that sets high expectations for all our citizens. We foster strong parental and community involvement to ensure that the academic, social, emotional, and physical needs of our citizens are met. We offer an extended day program from 8:00am-4:00pm and after-school from 4:00pm-6:00pm to ensure that our citizens have a well-rounded education and increased opportunities for English Language Arts, Mathematics and Content Literacy (social studies and science) instruction.
In addition to providing a strong academic foundation, we nurture the artistic and social development of our citizens by integrating the arts into our instructional program and through our character education program. Our Character Education Program highlights a virtue each month that exemplifies the traits of great leaders. Historical and literary archetypes serve as models of good behavior. In addition, our citizens participate in daily social and emotional learning lessons to start the school day to help create and strengthen our Jamii-Community. As part of our commitment to service-learning, in January we study Huduma- Service and complete service-learning projects at all grade levels.
Student population
80% Black
14% Hispanic
6% Multiple/Other
25 YEARS
FIRST CHARTER SCHOOL IN NYS WITH 25 YEARS OF SERVICE
14:1
STUDENT-TEACHER RATIO (SWCSH HAS 2 TEACHERS IN EVERY CLASSROOM)
90%
QUALIFY FOR FREE AND REDUCED LUNCH
14%
QUALIFY FOR SPECIAL EDUCATION SERVICES
2.5%
ENGLISH LANGUAGE LEARNERS
School initiatives
High quality professional development: Great teachers help create high performing students. According to research, a high quality teacher is the most critical school related factor influencing student achievement. Therefore, SWCSH is committed to helping our teachers grow professionally. Ongoing professional development keeps us up to date on the new research and best practices related to how our citizens learn. The best professional development is ongoing, experiential, collaborative and rooted in working with children. The Principal, the Instructional Coach and Lead Teachers provide instructional coaching by providing individualized professional development and support to teachers by modeling lessons, co-planning and co-teaching lessons and providing ongoing feedback through observations.
Character education: SWCSH's character education program is centered upon the belief that it is essential for our school to develop the whole child by creating ethical, responsible and caring young people who will be the future leaders of the world. Character education cultivates the mind and nurtures the heart. We model and teach good character by emphasizing universal values that are shared among cultures around the world. Our character education program is literature based and includes many opportunities for our citizens to engage in meaningful dialogue, reading and writing about each virtue. Good character is not formed automatically. It is developed over time through the process of teaching, example, learning and practice. It is developed through character education. This involves exposing our citizens to literary and historical archetypes that epitomize the virtues that we value and encouraging citizens to apply the lessons learned to their everyday lives.
Literacy across the curriculum: At SWCHS, our mantra is "Literacy is Everything and Everywhere." We believe that children learn to read and write by reading and writing daily for information and enjoyment. Our citizens are required to read books on or above their independent reading level across content areas and demonstrate mastery of all content through writing. Writing is embedded across the curriculum through reading, social studies, science and mathematics. As a result, literacy is taught across the curriculum using a comprehensive balanced literacy approach. Balanced Literacy is an all- inclusive framework that encompasses all of the research-based best practices for literacy instruction as outlined by the National Reading Panel (2000). This literacy model comprises two distinct elements. Our citizens learn to read during the traditional literacy block and read to learn during the social studies and science blocks. Systematic intervention is incorporated into the framework for instruction to provide additional literacy time and instruction to meet the needs of students at the Tier I, Tier II, and Tier III levels. Data is used to drive instruction and create flexible groups. Everyone is a reading teacher at SWCSH!
The details
There are 2 degree options available at this location:

34-credit master of arts in teaching in Inclusive Childhood Education (dual degree in Childhood Education and Childhood Special Education, Grades 1-6)
30-credit master of arts in teaching in Secondary Education (Grades 7-12)

Meet online with NYU Steinhardt faculty and peers twice per week in the evening for your course work ~15 hours/week
40 hours/week in classroom residency at partner location
Stipend and benefits from partner school
Sisulu-Walker Charter School of Harlem Resident Teachers, while learning from other grade team members, will participate in the work of the grade team, sharing common planning, professional development, curriculum design, and teaching responsibilities following the NYU Gradual Release Framework. Through their work with their mentors, Resident Teachers will learn to become reflective about their practice. As they develop areas of expertise, they will share their knowledge with their grade team members. Resident Teachers will work closely with the Lead Teacher, their mentor, and other members of the team to develop their teaching skills. Resident Teachers will be integral members of grade level teams and provide individual and small group support to citizens under the supervision of mentor teachers.
During residency year
---
Full medical, dental, and vision benefits
---
---
After residency year
After successful completion of the program, you will receive priority hiring consideration for available teaching positions at Sisulu-Walker Charter School of Harlem.
---
Estimated Starting Salary with Master's Degree
---
The figures above are estimates provided by our partners for informational and planning purposes only. NYU Steinhardt does not guarantee these amounts.