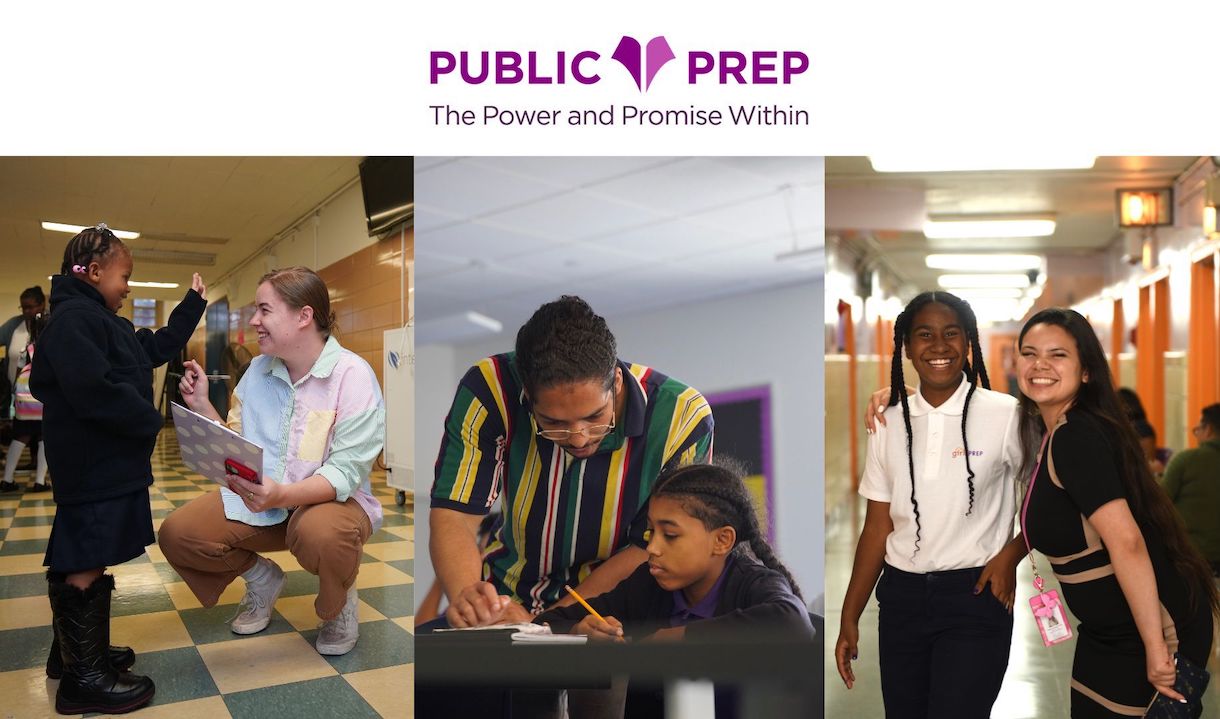 Public Prep

Located in the Bronx and the Lower East Side in Manhattan, Girls and Boys Prep Middle Schools, part of Public Preparatory Network (Public Prep), are places where joy and rigor coexist. Their holistic approach integrates social-emotional learning, health and wellness, the arts and character development alongside academically rich, rigorous, culturally relevant content. Public Prep's core values of sisterhood/brotherhood, merit, responsibility, and scholarship guide all interactions and decisions among scholars and staff. In the first non-profit network of single-sex learning environments in the country, scholars are independent learners, critical thinkers, and risk takers with strong personal agency. Opportunities abound to activate their authentic voice inside and outside the classroom. They are goal-oriented decision-makers empowered to make choices that will lead to life success.
At Public Prep, everything begins with the end in mind: college completion. This is the network's North Star. There is a deep belief among all staff that every child can succeed, no matter what. However, this does not mean education at Public Prep is only about passing tests. It's quite the opposite. Students experience a holistic approach to education with a well-rounded curriculum of core subjects combined with the arts, as well as social-emotional development. This focus on the whole child ensures Public Prep graduates go on to be empathetic leaders who are knowledgeable and curious about the world. They are goal-oriented decision-makers empowered to make choices that will lead to life success.
Teachers at Public Prep are lifelong learners and leaders who are committed to growth – both their own and that of their students. As a member of the Girls or Boys Prep team, you will learn to value feedback through formal observations, as well as through informal support systems, such as collaboration with departments and grade teams, that strengthen your instruction and confidence. School leaders create opportunities to build expertise in the craft of teaching through strategic differentiated professional development aligned to yearly goals, while welcoming you to the Public Prep family. When you bring an open mind, a commitment to excellence, and a belief that all children can make it to and through college, Public Prep will invest in you to become the best possible teacher for all students.
Student population: Girls Prep – Bronx
59% Black
39% Hispanic
4% White
1% Asian
1% Multiracial
Student population: Girls Prep – Lower East Side
67% Black
26% Hispanic
5% White
2% Asian
1% Multiracial
Student population: Boys Prep – Bronx
55% Black
42% Hispanic
3% White
1% Asian
1% Multiracial
100%
8TH GRADERS ACCEPTED INTO COLLEGE-PREP HIGH SCHOOLS
94%
4TH GRADERS PASSED NY STATE SCIENCE EXAM
70%
QUALIFY FOR FREE AND REDUCED LUNCH
Charter initiatives
Consistent data across schools. Infrastructure exists across the network so all teachers and school leaders have access to and know how to use data for student success. Teams of math coaches, specialists in special education and ELA, teacher leaders, and leaders in adult learning help teachers use data with purpose.
High-quality instruction. Public Prep believes that children need to have strong teachers at every level. Educators attend workshops across the network to define high-quality instruction and what makes an excellent teacher. All adults in the network commit to the academic and social-emotional development of every child.
A culture of support and success. Culture-focused leadership roles ensure a safe environment for learning and a safe space for students to express themselves. These people support new teachers with student management procedures, how to connect with families, and how to build rapport in communities.
Residency site locations
Girls Prep Bronx Middle School
Boys Prep Bronx Middle School
Girls Prep Bronx Elementary II
The details
There are two degree options available at this location:

34-credit master of arts in teaching in Inclusive Childhood Education (dual degree in Childhood Education and Childhood Special Education, Grades 1-6)
Inclusive Childhood Education is available at Boys Prep Bronx Elementary School (Grades 1-4) and Girls Prep Bronx Elementary School II (Grades 1-2)
30-credit master of arts in teaching in Secondary Education (Grades 7-12)
Secondary Education is available at Boys Prep Bronx Middle School (Grades 5-8), Girls Prep Bronx Middle School (Grades 5-8), and Girls Prep Lower East Side Middle School (Grades 5-8)

Meet online with NYU Steinhardt faculty and peers twice per week in the evening for your course work ~15 hours/week
~40 hours/week in classroom residency at partner location
Tuition subsidy and stipend or wage from partner school
Two-year commitment following residency required
Full-day cost details
During residency year
As a resident, you'll be a resident and permanent substitute teacher in your content area. This means you'll work alongside another teacher and gain responsibility throughout the year. Initially, you will be in one classroom with your mentor teacher, but as the year progresses, you will be tapped to support and cover classes for teachers when they are absent.
---
Full medical, dental, and vision benefits
---
---
After residency year
After successful completion of the program, you will be a top candidate for a full-time teaching position within the network. In exchange for the tuition assistance during your residency year, Public Prep requires you to make a commitment to teach within the network for a minimum of two years after earning your degree.
---
Estimated Starting Salary with Master's Degree
---
The figures above are estimates provided by our partners for informational and planning purposes only. NYU Steinhardt does not guarantee these amounts.