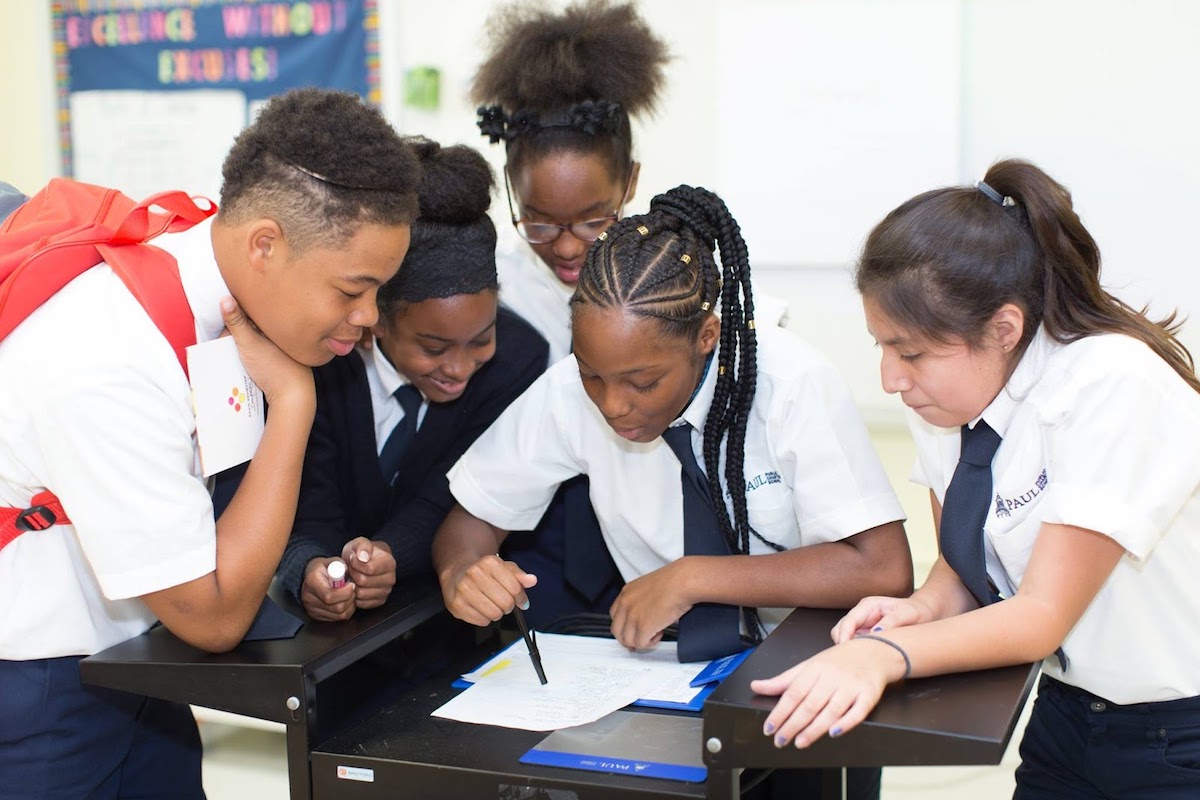 Paul Public Charter School
Boasting an impressive 100 percent college admission rate, Paul Public Charter School delivers on its commitment that all children can learn if provided a nurturing and structured school environment. 2021 graduates were accepted at 52 colleges and universities including Clark Atlanta University, Franklin and Marshall College, George Mason University, Louisiana State University, North Carolina Central University, and St. John's University.
Students commence Paul Middle School with a Social Emotional Learning curriculum that bolsters college preparatory skills. Project-based learning, individualized class scheduling, and a rigorous family engagement program all contribute to academic success. Saturday Academy and math and reading intervention workshops support students who require additional instruction. The school recognizes that middle school represents a time of rapid and dynamic personal development; its curriculum stresses self-management, self-awareness, social awareness, responsible decision-making, and relationship skills in addition to scholastics. Student support staff include licensed mental health professionals, special educators, and certified school counselors to facilitate personal growth.
Paul International High School offers college-level academics across the humanities, sciences, and fine arts (the school maintains partnerships with Alvin Ailey and the Kennedy Center). Dual enrollment opportunities with the University of the District of Columbia further broadens students' curricular options. All PIHS students must complete a research-driven capstone project focused on a global issue. The school hopes to reintroduce its International Travel and Study Abroad program soon, COVID-19 pandemic conditions permitting.
Paul PCS serves a diverse student body at the grades six through twelve level. African Americans constitute more than half the student body; Latinx students make up just over 40 percent. Most students qualify for Title I benefits; nearly one in four is an English-language learner.
Student population
41% Hispanic
57% Black
1% Multiple/Other
< 1% White
100%
COLLEGE ACCEPTANCE RATE
22%
OF OUR STUDENTS ARE ENGLISH LANGUAGE LEARNERS
25%
OF OUR STUDENTS RECEIVE AN INDIVIDUALIZED EDUCATION PROGRAM (IEP)
12:1
AVERAGE CLASS SIZE IS 12:1
Charter initiatives
21st Century Learning: Paul Charter is a Hybrid Online/In-person campus.
Campus Culture: Paul Charter prides itself on creating a culture that has a socio-emotional approach.
Inclusion: There is a focus on language accessibility and greater affinity group recognition among its teachers and learners.
The details
30-credit master of arts in teaching in Secondary Education (Grades 7-12)
Meet online with NYU Steinhardt faculty and peers twice per week in the evening for your course work ~15 hours/week
~40 hours/week in classroom residency at partner location
Tuition subsidy and stipend or wage from partner school
Full-day cost details
As a teacher resident, you'll teach and learn in your content area. You'll work alongside another teacher and gain responsibility throughout the year. You also may be asked to substitute teach later in the year as well as support intervention work.
During residency year
---
---
---
After residency year
---
Estimated Starting Salary with Master's Degree
---
The figures above are estimates provided by our partners for informational and planning purposes only. NYU Steinhardt does not guarantee these amounts.