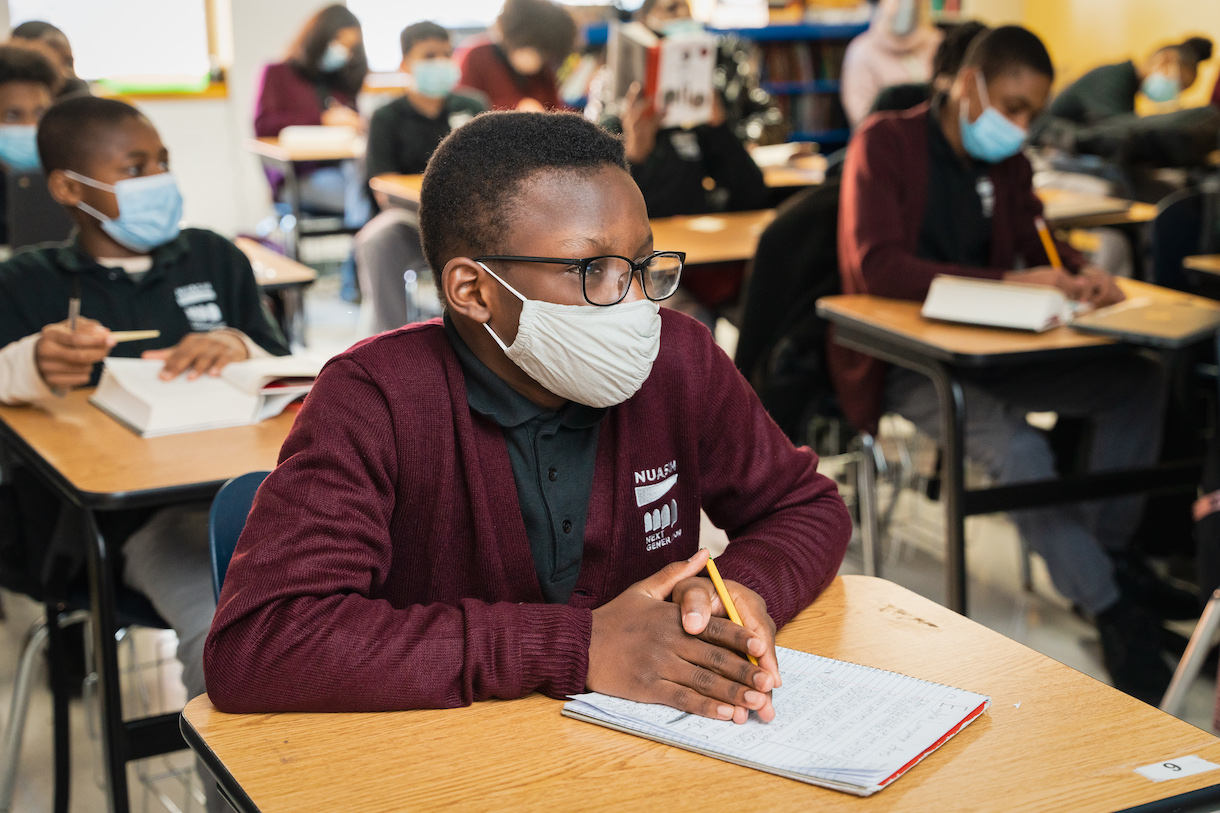 Nuasin Next Generation Charter School
Nuasin Next Generation Charter School is a K-12 charter school.
At Nuasin Next Generation, we believe in the unlimited talent and intellectual potential of our scholars and our community. We cultivate this talent and intellectual potential through a progressive education that focuses on deep exploration, thoughtful questioning, relentless curiosity and critical thinking.
Nuasin Next Generation Charter School implements a progressive K-12 educational program and an unyielding commitment to cultivating our scholars' innate intellectual talents to empower our graduates to achieve excellence in their postsecondary paths and make positive impacts on the broader community.
Every single one of our scholars have the potential to be great and change the world, at Nuasin Next Generation we prepare our scholars for that opportunity.
Student population
75% Hispanic
23% Black
1% White
96%
OF OUR STUDENTS QUALIFY FOR FREE AND REDUCED LUNCH
16%
OF OUR STUDENTS ARE CLASSIFIED AS HAVING SPECIAL NEEDS
18%
OF OUR STUDENTS ARE ENGLISH LANGUAGE LEARNERS
Three Key Pillars of Nuasin Next Generation Charter School
The Mission of Nuasin Next Generation stands firmly on the foundation of our three pillars: Rigor, Self-Advocacy, and Community. These three pillars are the guiding principles for our school and culture. Please find a deeper explanation of our pillars below.
Rigor We use the word "rigor" not in the stringent or inflexible sense, but in the sense of an unyielding need to challenge and push our students because we understand and believe in the potential, talent, and ability of our scholars and community. We challenge our scholars to build their confidence and help them realize what they can achieve.
Self-Advocacy Our scholars are empowered to advocate for themselves, their families, and their communities. As our scholars come to understand that their voices are valued and needed, they learn to advocate for themselves. Our scholars are seen and valued; they understand that not only do they have the right to express their opinions, views, and perspectives, but it is their obligation to do so.
Community Our scholars will embrace community and understand that as a member of a community you have certain inalienable rights, the right to be seen, the right to be heard, the right to be protected and the right to be loved and cherished. Our students will also learn of their obligations. As a member of a community you have the obligation to respect, listen, support and only want and assume the best in all others. Every member of our community must understand that they are active participants in the Nuasin community and the community goes as we go.
The details
There are two degree options available at this location:

34-credit master of arts in teaching in Inclusive Childhood Education (dual degree in Childhood Education and Childhood Special Education, Grades 1-6)
30-credit master of arts in teaching in Secondary Education (Grades 7-12)

Meet online with NYU Steinhardt faculty and peers twice per week in the evening for your course work ~15 hours/week
~40 hours/week in classroom residency at partner location
Tuition subsidy and stipend or wage from partner school
Two-year commitment following residency required
Full-day cost details
As a resident intern, you'll work full time under a mentor teacher and have the opportunity to support students daily. Your role in the classroom increases over the course of the year 2022 – 2023 progressing from working with scholars one-on-one to facilitating small group discussions, and eventually lead teaching. At the high school level, resident interns will also assist students in a college advisor role. At the middle school level, resident interns will play an integral role in tutoring. Here are some more details about being a resident intern at Nuasin.
During residency year
Estimated Stipend/Wage (Resident role subject to change by Nuasin)
---
---
---
After residency year
After successful completion of the program, you will have a job waiting for you as a teacher at Nuasin Next Generation Charter School. In exchange for providing a master's subsidy and funding to offset your living expenses during your residency year, Nuasin requires you to make a commitment to teach in the charter school for a minimum of two years after earning your degree.
---
Estimated Starting Salary with Certification and Master's Degree
---
The figures above are estimates provided by our partners for informational and planning purposes only. NYU Steinhardt does not guarantee these amounts.