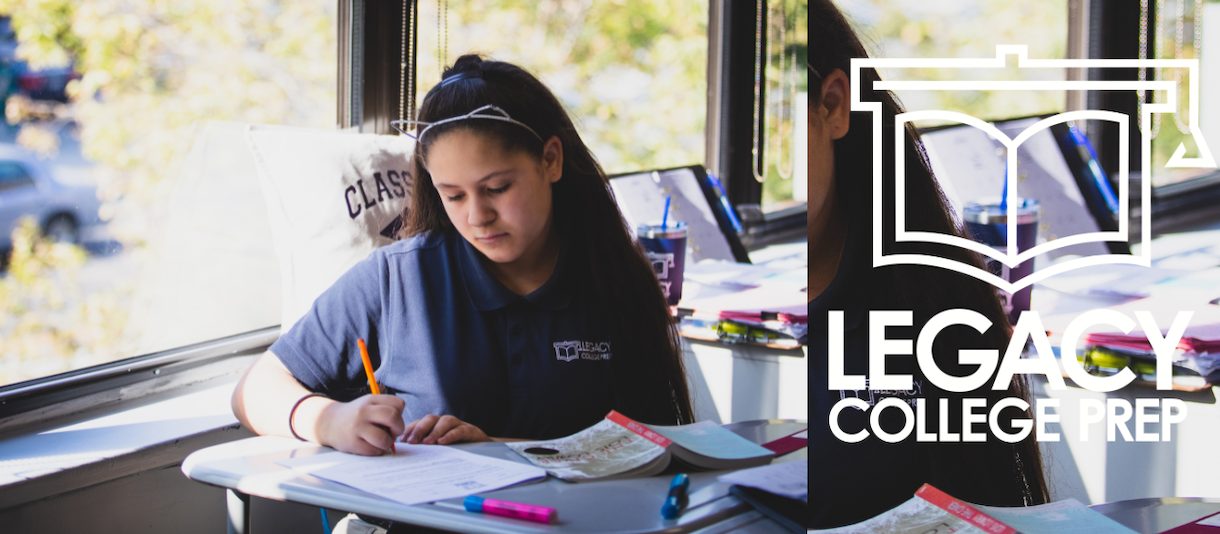 Legacy College Preparatory Charter School
Legacy College Preparatory Charter School in the Bronx serves grades six through twelve students at its middle school and high school facilities. As its name indicates, Legacy is committed to advancing all students to college-level study and the career opportunities a college education enables.
Instruction at Legacy rests on three core beliefs:
Rigorous instruction equips students for an academic journey leading to college graduation
Values-based character development prepares students for school and life
Ambitious goals drive college readiness and professional aspirations
Legacy faculty and students subscribe to a culture of PRIDE, an acronym for:
Professionalism demonstrated through good judgment, good conduct, punctuality, and meticulousness
Respect for all community members through kindness, empathy, support, and rigor
Integrity manifested in honesty, self-discipline, self-control, and tolerance of difference
Determination to enthusiastically and energetically make the effort required to succeed
Engagement by being focused, present, and active in all academic and extracurricular activities
Highly effective and committed teachers employ the latest pedagogic approaches, including frequent purposeful data analysis, to drive instruction and engage students' guardians in their education. Mission-aligned activities, trips, clubs, and community service opportunities supplement the curriculum. Students receive further support through one-on-one meetings with their advisor. After-school tutoring and Saturday Academy provide additional safety nets for students requiring additional instruction.
Legacy College Prep is a minority-majority school with a significant Latinx population. Black students constitute approximately one-third of the student body.
Student population
64% Hispanic
34% Black
2% Multiple/Other
10%
OF STUDENTS ARE ENGLISH LANGUAGE LEARNERS
16%
OF STUDENTS HAVE INDIVIDUALIZED EDUCATION PLANS
70%
OF STUDENTS QUALIFY FOR FREE/REDUCED LUNCH
School initiatives
This year we are focused on continuing to close learning gaps that were created during the COVID-19 pandemic. We saw a significant learning loss in both ELA and Math. This year we are focused on building on the successes of last year and providing more interventions in reading and math to our scholars who are 3 or more grade levels behind.
Residency site locations
Legacy College Prep High School
The details
30-credit master of arts in teaching in Secondary Education (Grades 7-12)
Meet online with NYU Steinhardt faculty and peers twice per week in the evening for your course work ~15 hours/week
~40 hours/week in classroom residency at partner location
Tuition subsidy and stipend or wage from partner school
Full-day cost details
During residency year
As a teacher resident, you'll teach and learn in your content area. You'll work alongside another teacher and gain responsibility throughout the year. You also may be asked to substitute teach later in the year as well as support intervention work.
---
---
---
After residency year
---
Estimated Starting Salary with Master's Degree
---
The figures above are estimates provided by our partners for informational and planning purposes only. NYU Steinhardt does not guarantee these amounts.