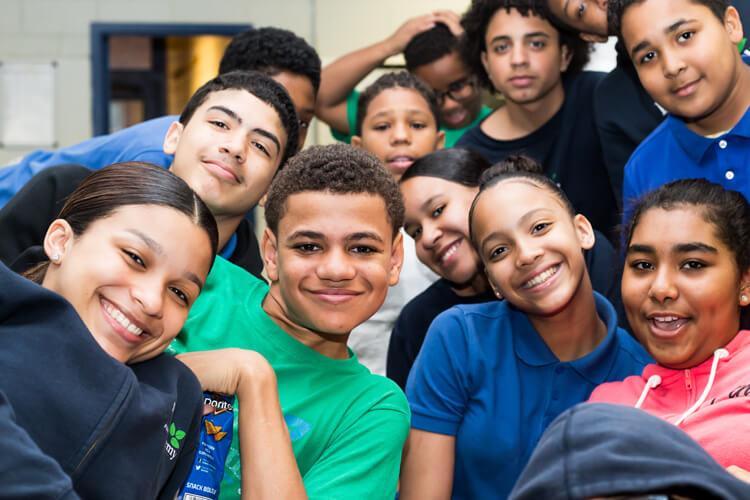 Inwood Academy for Leadership Charter
The Inwood Academy for Leadership Charter School (IAL) serves grades 5-12 in the Washington Heights and Inwood neighborhoods of New York City. Its mission is to empower students to become agents for change through community-focused leadership, character development, and college preparedness.
Inwood Academy for Leadership was founded on the premise that education can help break the cycle of poverty, illiteracy, and low expectations. Since opening its doors in 2010, the school has successfully supported the range of needs that its students require to be successful. It ultimately aims to create responsible young leaders with multiple pathways to succeed in life.
A key ingredient to the school's vision and success is its commitment to training and coaching for teachers. Inwood Academy for Leadership employs teachers who possess a deep desire to understand the energy, organization, motivation, and innovation required to ensure student success. And as a new teacher, you certainly don't do this alone. Hands-on coaching lets you ask questions and improve your practice, academic intervention teams provide guidance, and extensive administrative support allows you to focus on teaching.
Student population
92% Latino
7% Black or African American
84%
QUALIFY FOR FREE AND REDUCED LUNCH
60%
OF OUR STUDENTS IDENTIFY SPANISH IS THE PRIMARY LANGUAGE SPOKEN AT HOME
27%
QUALIFY FOR SPECIAL EDUCATION SERVICES
Charter initiatives
Engage students to learn via a rigorous Common Core-based curriculum in a safe and supportive classroom environment.
Leveraging an inclusive design. IAL serves a high percentage of English language learners and students with emotional or learning challenges through a rigorous Common Core-aligned curriculum and individualized goals.
Strong character development. IAL believes that honesty, integrity, responsibility, caring, and restraint are traits that contribute to well-rounded individuals who care, give back, and lead.
Focused on building community and leadership. IAL forms relationships with families and fosters meaningful connections for students with the neighborhood and local businesses.
Residency site locations
Inwood Academy for Leadership Middle School
Inwood Academy for Leadership High School
The details
30-credit master of arts in teaching (MAT) program
Meet online with NYU Steinhardt faculty and peers twice per week in the evening for your course work ~15 hours/week
~40 hours/week in classroom residency at partner location
Tuition subsidy and stipend or wage from partner school
Two-year commitment following residency required
Full-day cost details
As a resident, you'll work full time under a mentor teacher and have the opportunity to support students daily. Your role in the classroom increases over the course of the year – progressing from working with students one-on-one to facilitating small group discussions, and eventually lead-teaching up to three periods a day. Here are some more details about being a resident at Inwood Academy for Leadership (IAL).
Please note that current IAL staff members are given priority for resident positions.
During residency year
Estimated Stipend/Wage (Resident role subject to change by Inwood Academy for Leadership)
---
Provided by charter network
---
---
After residency year
After successful completion of the program, you will have a job waiting for you as a teacher in Inwood Academy for Leadership Charter School. In exchange for providing a master's subsidy and funding to offset your living expenses during your residency year, IAL requires you to make a commitment to teach in the school for a minimum of two years after earning your degree.
---
Estimated Starting Salary with Master's Degree and Certification
---
The figures above are estimates provided by our partners for informational and planning purposes only. NYU Steinhardt does not guarantee these amounts.