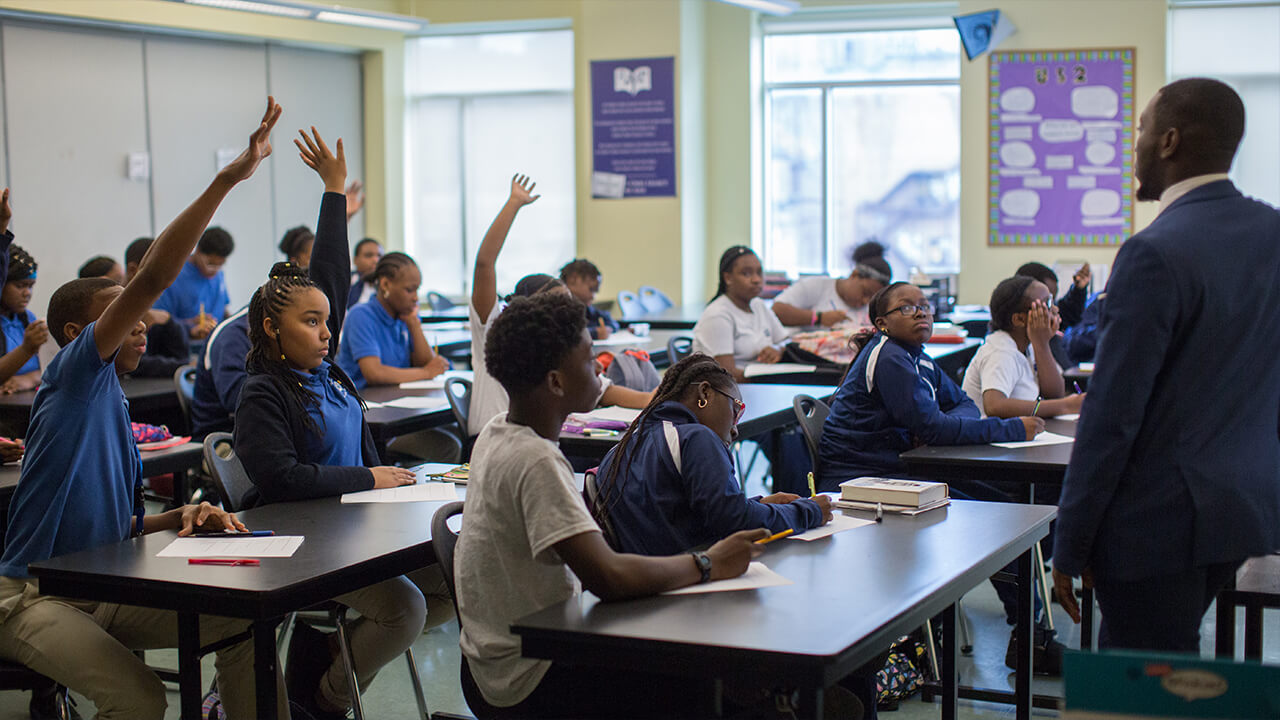 Great Oaks Charter School (NYC)
Great Oaks – New York City is a public charter middle school in the West Village of Manhattan serving grades 6-11. Great Oaks believes that students will shape the world, not be defined by it. Great Oaks promotes a learning culture that is a combination of project-based, authentic learning experiences and direct instruction to support skill development and accelerate learning. Instruction and culture are grounded in the design principles of Mastery, Leadership and Community. As part of the model, Great Oaks Americorps Fellows provide students with additional opportunities to engage in critical content, which helps to close academic achievement gaps and level the playing field. Great Oaks is seeking talented, tenacious people who share the belief that all students deserve a high-quality education.
What sets Great Oaks schools apart from other college preparatory charters is the Great Oaks Fellowship; a selective cadre of Fellows who deliver at least two hours of individualized instruction to every student every day. In addition to providing individualized instruction, Fellows mentor students to support social and emotional growth and collaborate with diverse stakeholders to develop an enriching school community where all students thrive.
Great Oaks NYU Teacher Residents participate in this dynamic Fellows program while simultaneously earning their initial teacher certification and degree from NYU. Participants spend at least two periods each day under the supervision and guidance of a Great Oaks mentor teacher, slowly taking on more and more classroom responsibilities during the school year. The rest of the day is devoted to developing the skills of the students in their small group tutorial, ensuring that all students gain the skills necessary to achieve state standards and develop crucial academic and socio-emotional skills. New teachers emerge from the program ready to take on the rigor of teaching in an urban classroom; are expected to be knowledgeable about the research and substance that forms the foundation of being a well-trained educator; and result in knowing themselves, and understanding what it means to be a highly qualified teacher.
Student population
30% of students identify as Latinx
42% of students identify as Black and/or African American
16% of students identify as American Indian or Alaskan Native
9% of students identify as Asian American Pacific Islander
350
350 STUDENTS SERVING GRADES 6-11; ~100 STUDENTS IN EACH GRADE
33%
OF STUDENTS HAVE INDIVIDUALIZED EDUCATION PLANS (IEPS)
8%
OF STUDENTS ARE EMERGING BILINGUAL STUDENTS
100%
OF STUDENTS QUALIFY FOR FREE OR REDUCED LUNCH
Charter network vision
The Great Oaks Foundation envisions an America where every child has the support of a tutor to enable them to realize their full human potential.
School Design Principles
Mastery: Schools have a culture of high academic expectations, predicated on the belief that every child can learn and earn a degree from a four-year institution. For students to shape the world and not be defined by it, they must have deep knowledge and understanding, and the ability to apply these to new contexts and situations. It is an attitudinal disposition that emphasizes continuous learning, reflection on learning, and growth over simple accounting of success and failure. We support continuous improvement and innovation through improvement science.
Leadership: The purpose of leadership as a focus – not just building leadership but teacher leadership and student leadership – is to foster equity and justice, the development of the whole person and to ensure that the good ideas of every member of the community are available for the use and insight of all.
Community: Our schools are firmly rooted in community and explicitly designed to spur all children toward college and career readiness. Community as a goal of education is predicated on the understanding that if it takes a village to raise a child, why not help raise the village – one that can support all children's healthy self-esteem and confidence through building deep relationships with others and themselves.
The details
30-credit master of arts in teaching (MAT) program
Meet online with NYU Steinhardt faculty and peers twice per week in the evening for your course work ~15 hours/week
Tuition subsidy and wage from partner school. Please see details below.
~40 hours/week in classroom residency at partner location
Full-day cost details
A special note about fellowships at Great Oaks-New York City:
All NYU teacher residents will also be enrolled in the Great Oaks Fellowship. They will be responsible for meeting all requirements of both programs.
As a Great Oaks Fellow, you will also be an AmeriCorps member. As an AmeriCorps member, you will also be eligible for AmeriCorps benefits as defined by your AmeriCorps contract including:
The Segal Education Award of $6,895. The Segal Education Award is good for seven years from the end of service and can be used to repay qualified student loans or for future education at eligible schools.
Possible forbearance of federal student loans. Note that interest continues to accrue, however, accrued interest on qualified loans is eligible for payment by the National Service Trust.
State childcare, healthcare, and food benefits are available for applicable candidates.
Member Assistance Program offering services such as counseling and financial planning resources.
During residency year
Our total investment in you is $29,895.
This breaks down into the following categories:
Living Stipend
Housing Stipend
Segal Education Award
---
Fellows receive a $17,000 living stipend.
This is an estimate based on 2021-2022 and is subject to change by the Great Oaks Foundation.
---
$6,000 in subsidized housing.
The second component is subsidized housing, which has a market value of approximately $6,000. Great Oaks New York subsidizes 80% of the housing (a value of $4,800), with the teacher resident covering the remaining $1,200 via a payroll deduction ($50 per paycheck for 24 pay periods).
Housing is in Brooklyn, and all apartments are fully furnished and come with a fully equipped kitchen.
This is an estimate based on 2021-2022 and is subject to change by Great Oaks Charter.
---
A Segal Education Award of $6,895 at end of service.
The Segal Education Award is good for seven years from the end of service and can be used to repay qualified student loans or for future education at eligible schools.
---
GO AmeriCorps Fellows may obtain healthcare through the Federal Health Insurance Marketplace. If the plan selected in the Federal Health Insurance Marketplace requires payment of a premium, the cost is covered (up to $60) as a non-taxed reimbursement.
---
---
After residency year
After successful completion of the program, you will receive priority hiring consideration for available teaching positions in Great Oaks Charter Schools.
---
Estimated Starting Salary with Master's Degree
---
The figures above are estimates provided by our partners for informational and planning purposes only. NYU Steinhardt does not guarantee these amounts.