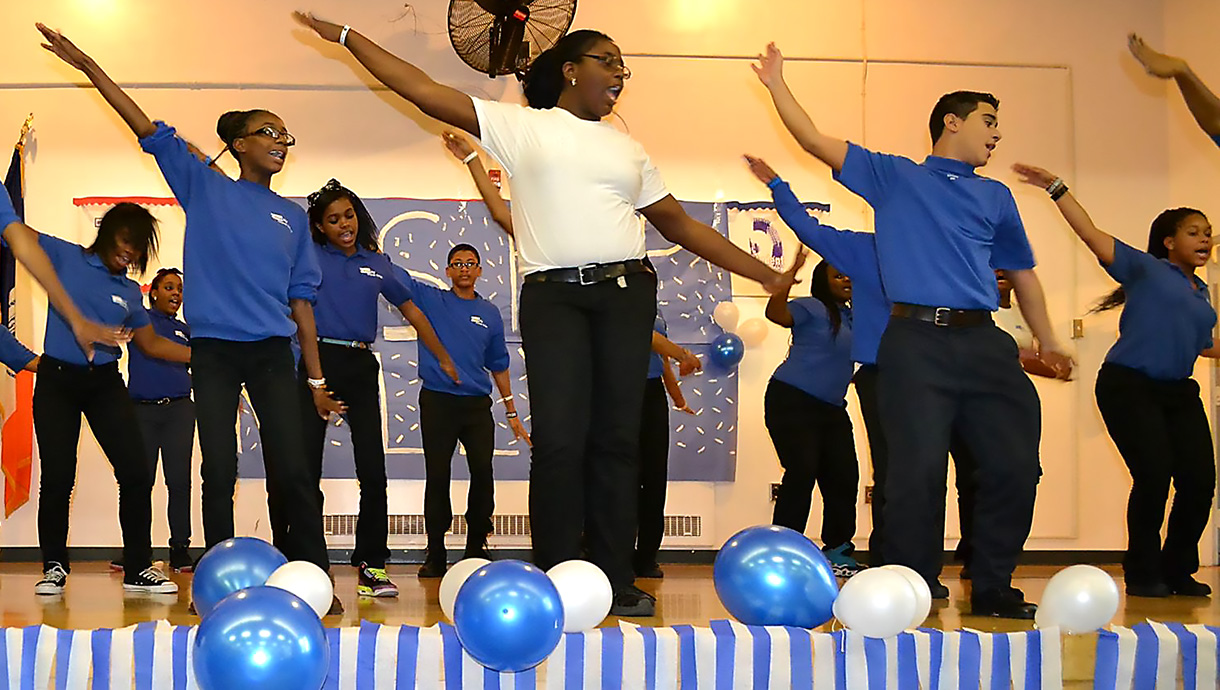 Equality Charter School
Located in the Bronx, Equality Charter School is a community-focused charter school intentionally kept small to be responsive to and dynamic for the students it serves. With about 90 students per grade in Grades 6-12, it aims to provide each child with what they need to find academic and personal success. Nothing about Equality Charter School is formulaic.
While focusing on its core values of the tradition of relentless pursuit of excellence, commitment to equality and diversity, and responsibility to ensure systematic growth, Equality Charter School opens its doors to all students. It has a firm commitment to retain each student, no matter the challenge or learning need. Staff at Equality Charter School bring a lens of social justice and change to the work – a deep belief that every child deserves a quality education. The team depends on one another and possesses a growth mindset for fellow teachers and the scholars.
Its approach to discipline reflects these ideals. The school adopts a positive behavior approach where all learners are treated with respect and kindness. Staff stand at their door or in different places throughout the building each morning to say good morning to everyone. The teachers start each day with a huddle. All of this work cultivates a warm, nurturing environment built on trust among all people in the school.
As a new teacher, you will be surrounded by a team of people who will collaborate, support, and challenge you. Throughout your career, you will have access to coaching – even the most senior teachers have 1:1 sessions with an instructional coach each week. Also each week, all teachers have two hours of professional development built into their schedules. With your commitment and dedication, Equality Charter School will help you learn and grow into the best possible teacher you can be.
Student population
69% Black
27% Hispanic
4% Other
25%
STUDENTS WITH DISABILITIES
78%
QUALIFY FOR FREE AND REDUCED LUNCH
9%
ENGLISH LANGUAGE LEARNERS (ELL)
Charter initiatives
Teacher Professional Development: Equality Charter School is dedicated to supporting teachers to grow in all areas of their craft. Professional Development includes weekly Tuesday sessions, as well as weekly coaching, co-planning meetings, and peer observations. We have a partnership with The Collaborative for Inclusive Education and offer opportunities to learn from external consultants and PD providers, based on the needs of our teachers and instructional leaders.
Remediation program: Equality Charter School aims to close the achievement gap in math and literacy. It accomplishes this through an extensive remediation program where students have access to instructional specialists and small group work.
Social emotional learning (SEL): The school is forging many efforts around scholar discourse with student-centered lessons and student-led discussions on various scenarios. Students also have advisory sessions four days per week where they focus on SEL capacities such as team building and social skills.
Residency site locations
Equality Middle School
Equality High School
The details
30-credit master of arts in teaching (MAT) program
Meet online with NYU Steinhardt faculty and peers twice per week in the evening for your course work ~15 hours/week
~40 hours/week in classroom residency at partner location
Tuition subsidy and stipend or wage from partner school
Two-year commitment following residency required
Full-day cost details
As a teacher resident, you'll learn to teach alongside a lead teacher in your content area. This means you'll work with another teacher and gain responsibility throughout the year. In addition to what happens in the classroom, you may be involved in the middle school's extensive remediation support program.
During residency year
---
Full medical, dental, and vision benefits
---
---
After residency year
Teacher (full time)
After successful completion of the program, you will have access to teacher vacancies across Equality Charter High and Middle School (and Elementary School as of Fall 2024). In exchange for providing a master's subsidy and funding to offset your living expenses during your residency year, if offered employment, Equality Charter School requires you to make a commitment to teach there for at least two years after earning your degree.
---
Estimated Starting Salary with Master's Degree
---
The figures above are estimates provided by our partners for informational and planning purposes only. NYU Steinhardt does not guarantee these amounts.