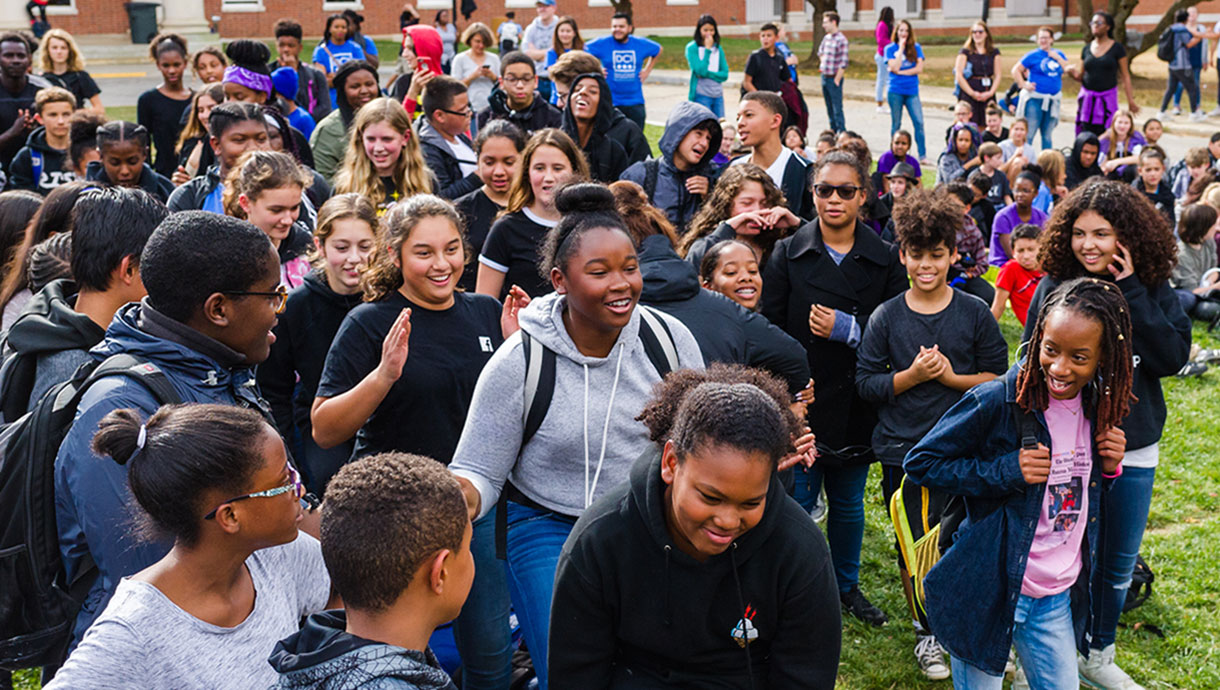 District of Columbia International School
Located in our nation's capital, District of Columbia International School (DCI) is the only International Baccalaureate (IB)-for-all school in Washington, DC. It is a charter school that serves nearly 1,300 students in Grades 6-12. To be authorized as an IB program, the International Baccalaureate Organization must authorize and approve its status.
One of the most racially, economically, and geographically diverse schools in Washington, DC, the school is built on three principles: IB for all, student agency, and language immersion. These priorities support its mission to inspire students to be multilingual, culturally competent, and committed to proactively creating a socially just and sustainable world. During the middle grades, students study English, math, science, and either Spanish, French, or Chinese, and on alternating days they also take electives, such as design and art. This intentional structure is supported by a 1:1 technology program that ensures differentiation and accommodation while student-driven courses give students control of their learning.
As an IB-for-all school, DCI focuses on the IB learner profile, which views students as inquirers, knowledgeable, thinkers, communicators, principled, open-minded, caring, risk-takers, balanced, and reflective. Teachers are supported in learning and understanding what these traits mean for every student. It's a school that values the diversity in its teaching force and aims to have it reflect its student body. Undergoing a residency at DCI will immerse you in the IB-for-all culture and give you the foundation to thrive in this unique setting.
Student population
41% Hispanic
31% Black
17% White
7% Multiple/Other
3% Asian
1% American Indian
TIER 1 SCHOOL HONOR FROM THE DC CHARTER SCHOOL BOARD, TIER 4 AND 5 OSSE STAR
51%
QUALIFY FOR FREE/REDUCED LUNCH
District initiatives
IB for all: All students take IB classes and participate in the IB Diploma or Career Program
Language: All students study an international language: Chinese, French or Spanish, every day.
Student agency: DCI graduates will have the agency to pursue their chosen path to college or career. The majority of students participate in DCI student clubs and sports, leading to strong engagement and connectedness with the community and school.
The details
30-credit master of arts in teaching (MAT) program
Meet online with NYU Steinhardt faculty and peers twice per week in the evening for your course work ~15 hours/week
~40 hours/week in classroom residency at partner location
Tuition subsidy and stipend or wage from partner school
Two-year commitment following residency required
Full-day cost details
As a teacher resident, you'll teach and learn in your content area. You'll work alongside another teacher and gain responsibility throughout the year. You also may be asked to substitute teach later in the year as well as support intervention work.
During residency year
Estimated Paid Internship (Resident role to be defined by DCI)
---
Full medical, dental, and vision benefits
---
---
After residency year
Teacher (full time)
After successful completion of the program, you will have a job waiting for you as a teacher in a DCI school. In exchange for providing a master's subsidy and funding to offset your living expenses during your residency year, DCI requires you to make a commitment to teach there for at least two years after earning your degree.
---
Estimated Starting Salary with Master's Degree
---
The figures above are estimates provided by our partners for informational and planning purposes only. NYU Steinhardt does not guarantee these amounts.