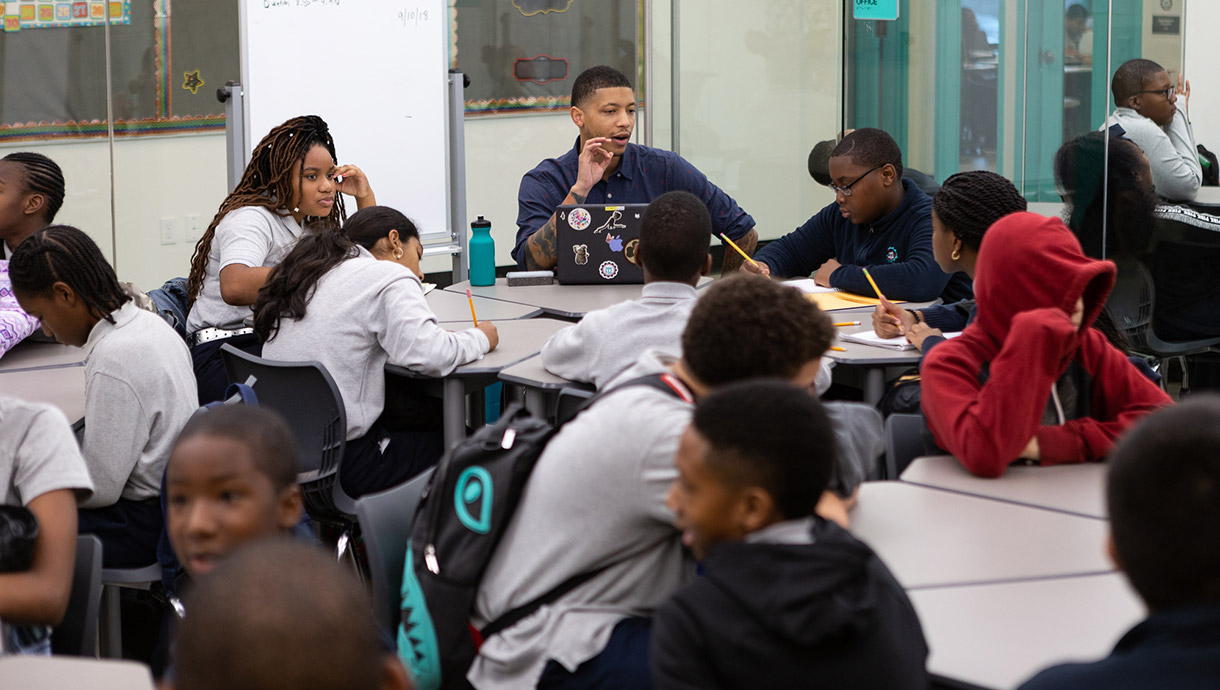 Brooklyn Lab Charter School

Brooklyn Lab Charter School (LAB) serves middle and high school students in the DUMBO neighborhood of Brooklyn, NY. LAB's mission is to prepare scholars with the academic foundation, digital literacy, and leadership skills necessary to succeed in college and professional life as they grow as ethical leaders.
LAB is dedicated to serving the highest-need students, regardless of their academic level, English language proficiency, or disability. It ensures that students have ample opportunities to apply their learning to real-world situations and experiences. This is made possible through a focus on learning independently and building entrepreneurial skills, as well as participating in small group environments. Every day middle school students have time to meet in small groups (4:1 student:teacher ratio) to work through math and literacy at the end of the day. In the extended-day model, teachers become more than just teachers of one subject. Instead, they are integral in the development and growth of all students with a special focus on individual student needs inside and outside the classroom. All adults involved with LAB work with students in some capacity. This leads to a highly personalized and connected structure for students.
As a teacher at LAB, you will have access to support, growth opportunities, and coaching that is designed to help you take on new leadership positions throughout your career. While there is a gradual on-ramp for new teachers, they are also given real responsibilities to create lessons and systems of learning throughout the schools. LAB looks for teachers who are dedicated to their own personal growth and committed to the ambitious work of preparing all students for college and life.
Student population
86% Black
6% Hispanic
4% Two or more races
3% White
1% Asian
1% Native American
98%
QUALIFY FOR FREE AND REDUCED LUNCH
29%
QUALIFY FOR SPECIAL EDUCATION SERVICES
Charter initiatives
Building partnerships with instructional groups using data: It's essential that the time that students spend in the small group instruction is also aligned to the core curriculum. LAB is focused on building partnerships across the teams and making sure everyone has access to the data they need to align lessons and provide targeted help.
Growing the science program: As LAB grows, it plans to build out its science curriculum. If you're a teacher looking to have an impact on a science program, this could afford you ample leadership opportunities to build a content area from the ground up.
Entrepreneurial learning: LAB fosters inquiry-driven learning and instills students with a sense of curiosity in the face of challenges. It partners with industry leaders and entrepreneurs to provide well-rounded experiences to students.
Residency site locations
Brooklyn Lab Middle School
Brooklyn Lab High School
The details
30-credit master of arts in teaching (MAT) program
Meet online with NYU Steinhardt faculty and peers twice per week in the evening for your course work ~15 hours/week
~40 hours/week in classroom residency at partner location
Tuition subsidy and stipend or wage from partner school
Two-year commitment following residency required
Full-day cost details
As a teacher resident, you'll be a core classroom teacher. This means you'll work alongside another teacher and gain responsibility throughout the year. This immersive learning is designed to assist you with understanding your students and their learning process, setting you up to have a class of your own the following year.
During residency year
---
80% of medical, dental, and vision benefits is paid by the network
---
---
After residency year
Teacher (full time)
After successful completion of the program, you will have a job waiting for you as a teacher at LAB. In exchange for providing a master's subsidy and funding to offset your living expenses during your residency year, LAB requires you to make a commitment to teach there for at least two years after earning your degree.
---
Estimated Starting Salary with Master's Degree
$57,000 to $63,000 and varies with certification
---
The figures above are estimates provided by our partners for informational and planning purposes only. NYU Steinhardt does not guarantee these amounts.