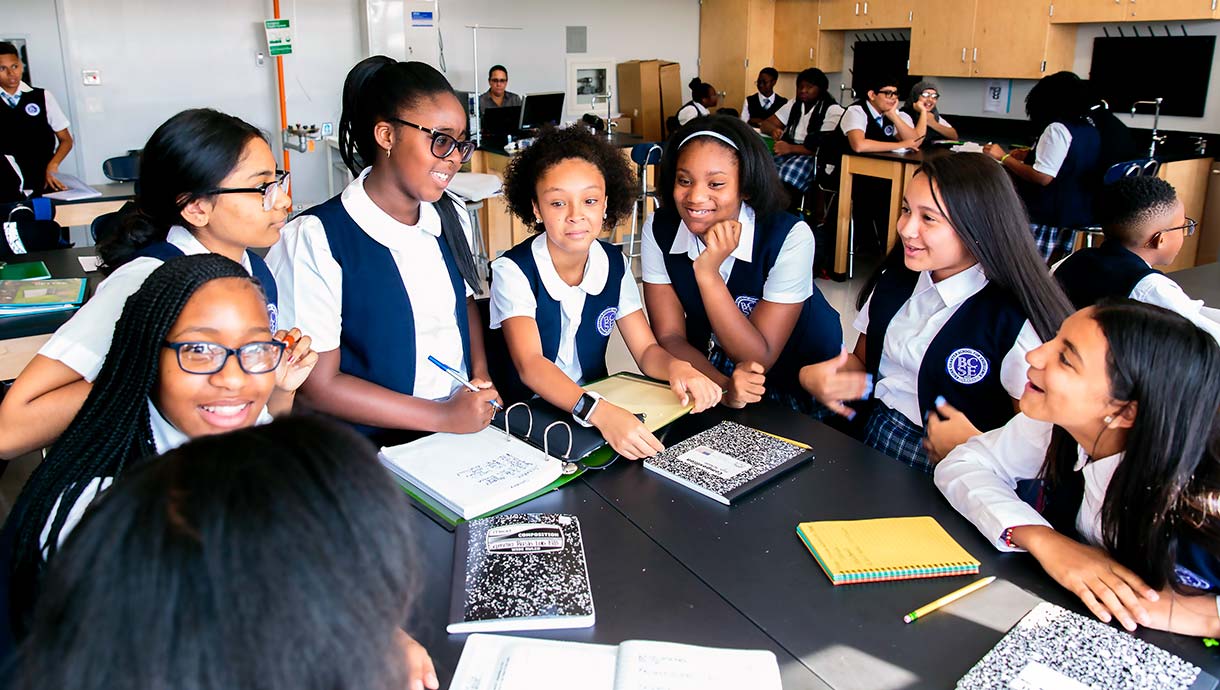 Excellence Community Schools
Excellence Community Schools create a supportive and caring environment with high expectations for all students. The schools have built a community of learners that has been recognized as a National Blue Ribbon School by the US Department of Education.
As part of the charter network, Excellence Community Schools prepare young scholars to compete for admission to and succeed in top public, private, and parochial high schools by cultivating their intellectual, artistic, social, emotional, and ethical development. The schools offer a challenging and rigorous academic curriculum, which, at the earliest of grades, has an eye toward college preparation.
Families are deeply involved in student success, as teachers and school leaders get to know each and every student and their backgrounds. Parents and guardians are given the tools to support their children's success. The school community amplifies the mantra "RISE UP." It stands for these core values: Respect, Integrity, Success, Etiquette, Unity, and Pride.
A strong mentor-mentee relationship is built into the model of supporting new teachers. You will have ample professional development opportunities to improve your practice, along with camaraderie and support from colleagues. As you grow in your career, Excellence Community Schools provide ways to expand your leadership skills and help you build an even greater impact on your students.
Known as a beacon in the neighborhood and a vehicle for positive change in New York, Excellence Community Schools are committed to the academic success of all learners.
Student population
44.6% Black
31.9% Hispanic
23.1% Asian
.4% White
98%
HIGH SCHOOLERS PASSED 2017 REGENTS EXAMS
1ST CHARTER SCHOOL IN THE BRONX TO RECEIVE NATIONAL BLUE RIBBON AWARD
89%
4TH AND 5TH GRADE GIRLS PROFICIENT IN SCIENCE
Charter initiatives
Department of High School Placement. This was created to ensure students are on the right path to achieving excellence. The department provides a roadmap for scholars to explore all of the options available to them at the secondary level.
Family and community engagement. Through its signature "Build a Bronx" campaign, Excellence Community Schools commit to the surrounding community. They work to develop the talent that exists in the neighborhood and invest in the community.
STEM Innovations. By 2024, all Excellence Community Schools will have a computer science presence at every grade level. In so doing, the network will introduce roughly 5,000 scholars to its computer science curriculum and teach them how to be efficient programmers.
The details
30-credit master of arts in teaching (MAT) program
Meet online with NYU Steinhardt faculty and peers twice per week in the evening for your course work ~15 hours/week
~40 hours/week in classroom residency at partner location
Tuition subsidy and stipend or wage from partner school
Two-year commitment following residency required
Full-day cost details
As a teacher resident, you'll be a teacher fellow in your content area. This means you'll work alongside another teacher and gain responsibility throughout the year.
During residency year
---
Full medical, dental, and vision benefits
---
---
After residency year
Teacher, full time (NYS Certification required)
Educational Associate (uncertified graduates)
---
Estimated Starting Salary with Master's Degree
$70,000 minimum, varies by experience (Teacher, full-time)
$45,000 (Educational Associate )
---
The figures above are estimates provided by our partners for informational and planning purposes only. NYU Steinhardt does not guarantee these amounts.